Kentucky Quilt Trail

Rowan County Kentucky Foothills Quilt Trail


"Americana Flag "

Quilt Square #30
Location: 2729 Sharkey Road
Geocode: 38.232421, -83.558491
Directions: From Morehead, go west on Rt.32 (Flemingsburg Rd.) 4.65
miles past the I-64 interchange, then left 2.7 miles on Rt. 158 (Sharkey
Road) to the junction with Rt. 801. Red barn is at right next to the
road, just before the junction and just past entrance to Scaggs Lane.
[*From Interstate 64 at Exit 133 (Farmers-Sharkey), go north on Rt. 801,
then turn right on Rt. 158. Barn will sit just past the junction on
left.] The barn is near the Fleming County line.

Sponsor: SEKTDA (Southern & Eastern Ky Tourism Development Assoc.)
Barn Owner: Willie & Garnetta Pennington and Lee & Jenny Pennington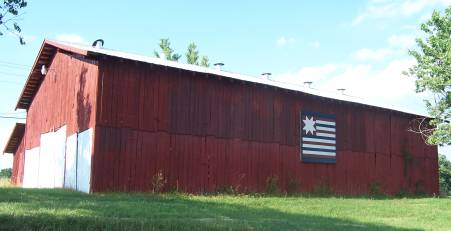 Painted by: Foothills Quilt Trail Painting Team
Hung: July 2, 2007 By Jack Williams & Duane Catron
Notes: The farm has been in the family since 1944. Willie Pennington's father
Roscoe Pennington bought the farm from Harm Eldridge. He had the barn
built around 1950 by Nelson Hyatt. It was used to house tobacco.
Eventually Willie and his brother Ishmael obtained the farm. Now Willie
and his son Lee own most of the farm. The barn is currently used for hay
and equipment storage.

Since Willie and Ishmael were both in the military and Willie loves
American flags, it was decided that a large flag on the barn would be
the best pattern to have. The flag quilt pattern was chosen by Lee &
Jenny Pennington. They requested the flag be painted with the same dark
red and dark blue colors that matched the ones used on their good
friends' "Log Cabin" quilt block.