Kentucky
Quilt Trail


Rowan County Kentucky Foothills Quilt Trail

"Double
Wedding
Ring"
Quilt Square #25
Location: 10755 Brown Ridge Rd. (Rt. 32 E)
Directions: From Morehead at US-60 & Rt. 32 (at Rodburn), go east 10.8 miles on Rt. 32 (first on Christy Creek Road then continuing on Brown Ridge Rd). Barn is at right side of road.
Sponsor: Anonymous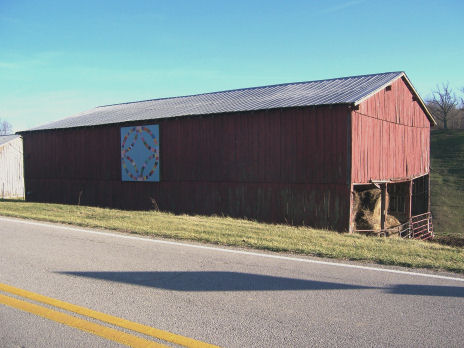 Barn Owner: John D. & Carolyn Barnett
Painted by: Foothills Quilt Trail Painting Team
Hung: December 7, 2006 by Grayson RECC Employees David Holbrook and Joe Sargent with help from quilt trail volunteers Billy and Carmileta Evans.
Notes: Barn is adjacent to the highway and can easily be seen from both directions on Rt. 32. It is located on next farm just past Barn Quilt #21 and is only a short distance from the Elliott County line.
*The double wedding ring pattern has long been a favorite among quilters. It was especially popular in the United States during the 1930s and 1940s.