Kentucky Quilt Trail

Rowan County Kentucky Foothills Quilt Trail

"Doves in the Window"

Quilt Square #7
Location: Rt. 519 Directions: From junction of US-60W & Rt. 519 (at signal light in Morehead), go about six miles south on Rt. 519. Barn is at left across the pasture.
Geocode: 38.101689 -83.411344.
Sponsor: SEKTDA (Southern & Eastern KY Tourism Development Assoc.)
Barn Owner: Betty & Raymond Perry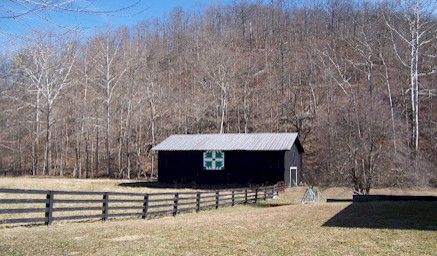 Painted by: Foothills Quilt Trail Painting Team
Hung: Feb.15, 2006
By Grayson RECC employees (Dale Littleton, David Holbrook, and Donnie Martin)
Notes: Barn owner didnít specify a quilt pattern Ė just wanted a quilt block with bright colors that could easily be seen from the road. Quilt block chosen is based on a beautiful quilt owned by one of the local quilt square committee members. Barn is just a few miles from the Morgan County line.