Kentucky Quilt Trail

Rowan County Kentucky Foothills Quilt Trail

"Flower Garden"

Quilt Square #10
Location: Elliottville, Corner of Rt. 504 and Rt. 32 East
Directions: From Morehead, junction of US-60E & Rt. 32 (at Rodburn), go east 8.4 miles on Rt. 32 (Christy Creek Road) to Elliottville and Rt. 504. Turn left on Rt. 504 and just a short distance further, the barn sits on small hill at left.
Sponsor: Morehead Tourism Commission
Barn Owner: Eldon & Juanita Roe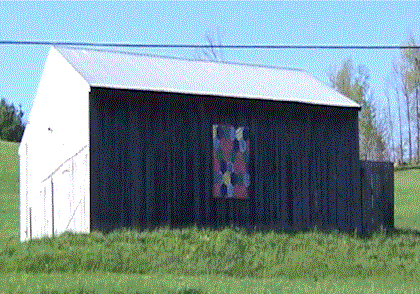 Painted by: Foothills Quilt Trail Painting Team
Hung: March 2006
By Grayson RECC employees
(Kyle Clevenger, Billy Ray Wilson, & Dave Holbrook)
Notes: Barn rebuilt in summer of 1995 after a tornado tore down the original barn.