Kentucky Quilt Trail

Rowan County Kentucky Foothills Quilt Trail

"Lone Star"

Quilt Square #28
Location: 12150 Cranston Rd.
Directions: From Morehead, follow Flemingsburg Rd./State Rt. 32 West to signal light (just over one mile past the Interstate 64 interchange) at junction with Rt. 377 Cranston Rd. then right 12.1 miles on Rt. 377 (Cranston Road). Barn is at left.
Geocode (latitude and longitude): 38.362888 -83.410428
Sponsor: SEKTDA (Southern & Eastern Kentucky Tourism Development Association)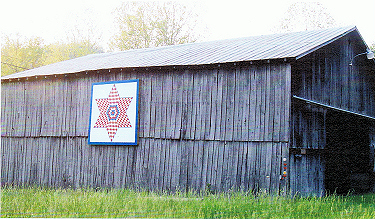 Barn Owner: Jim & Dixie Blythe
Painted by: Foothills Quilt Trail Painting Team
Hung: April 25, 2007. By Members of the Rt. 377 Volunteer Fire Department (Danny Blevins, Jr., Todd Plank, Dowe Blevins, Daniel Blevins, Howard Helterbrand) and the Blythe's daughter, Eva Jane Little
Notes: Design was copied from a quilt owned by the Blythe family.