Foothills Quilt Trail

Rowan County Kentucky


"Ohio Rose"

Quilt Square #48
Located at: 2170 Cranston Road (Rt. 377)

Directions: From Morehead, take Rt. 32 W (Flemingsburg Rd.), then right
2.2 miles on Rt. 377 (Cranston Rd.). Quilt square is at right on a small
knoll beside the driveway. It is directly across the road from the
former Bob Morehouse Garage.
Geocode (latitude and longitude): 38.239451 -83.448143

Sponsored by: Friends of the Rowan County Science, Technology, and
Industrial Arts Departments *given in memory of Janie Allen

Property owners: Arv Allen & Bill Litton

Painted by the Foothills Quilt Trail Painting Team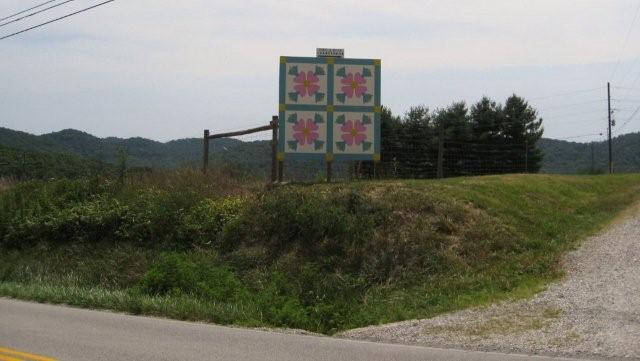 Installed: July 22, 2008 by Arv Allen & Bill Litton

Note: This pattern was used on one of several quilts made by Janie
Allen and her mother. The colors chosen were copied as close as possible
to the actual quilt she made. Since the family's barn is so far from the
main road, it was decided a freestanding quilt square at the entrance
to the driveway would be more visible.