Kentucky Quilt Trail

Rowan County Kentucky Foothills Quilt Trail

"Sadie's Birds"

Quilt Square #44
Location: 235 Dry Branch Rd.

Directions: From Morehead, take Rt. 32 W (Flemingsburg Rd.), then right
9.6 miles on Rt. 377 (Cranston Rd.), then right 0.2 mile on Dry Branch Rd.
Barn sits on right, next to the road.
Geocode (latitude and longitude): 38.313479, -83.388573

Sponsor: George & Sadie Brown Descendants

Barn Owner: Fred Brown, Sr.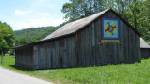 Installed: Early June 2008 by Woody Clark, Harry Clark, Fred Brown, Sr &
Fred Brown, Jr.
Note: This quilt pattern, which is better known as Doves in the Window,
is matched as close as possible to an actual quilt now owned by family
member Jackie Webel.

Special note written by Fred Brown, Jr.:
Grandmothers come in an assortment of styles and personalities, some
short, some tall; some plump, some skinny; some sweet and some
bittersweet. I had the good fortune to receive one made entirely of
love. I didnít have her long: she went to a better place when I was only
six, nearly a half century ago.
My paternal grandmotherís name was Sadie Jane Clark Brown, as patient
and gentle a Christian soul as ever successfully raised twelve children.
Her kindness and generosity live on in the memories of those who walked
through life with her, and their many descendants. She loved people,
especially grandchildren, flowers and quilting. Sadieís Birds was a
pattern from a quilt she pieced and passed on to her eldest daughter,
Grace Brown Lovely Yoder, to quilt.
Aunt Grace lost her battle with cancer twelve years ago, after raising
seven children and helping in the upbringing of as many grandchildren.
She was her motherís daughter, always ready with a hot meal and a hearty
welcome. Her yard was a flower garden; her home an oasis. Like my
grandmother, her hands were worn from many chores, but love and
forgiveness rose newborn in her heart each day. Like my grandmother, her
favorite book was bound in black; her favorite passages printed in red.
She quilted Sadieís Birds and passed it down to her daughter Jackie.
Earlier this year, thanks to the help of Graceís daughter Bonnie, Dad
and I found ourselves assisting Woody and Harry Clark mount this quilt
pattern to Dadís old barn, which has stood watch over the entrance to
Dry Branch for more than one hundred years. My sisters later painted the
sign that hangs below it. Quilts are memories, pieced in hope and
stitched with love. Bridging generations, they warm us all our lives.

This pattern, known as Doves in the Window, was designed to match
a quilt made by Sadie Brown.