Kentucky Quilt Trail

Rowan County Kentucky Foothills Quilt Trail

"Winged Star"

Quilt Square #23
Location: Rt. 32 W - Flemingsburg Rd.
Directions: From Morehead, go west 6.1 miles on Rt. 32 Flemingsburg Rd. Barn, located to right of gravel driveway, is at left of highway.
Geocode (latitude and longitude): 38.227213 -83.493187
Sponsors: SEKTDA (Southern & Eastern Kentucky Tourism Development Association)
Barn Owner: David and Beverly Gilliam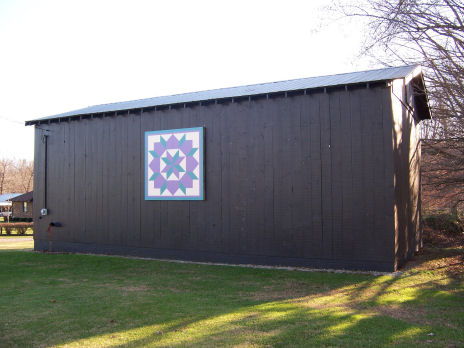 Painted by: Foothills Quilt Trail Painting Team
Hung: November 22, 2006 by Jack Williams & Duane Catron
Notes: Barn can easily be seen from both directions on Rt. 32. Barn is also near the junction of Rt. 32 & Rt. 158 (Sharkey Rd) and is only a short distance from the Fleming County line.