Kentucky Quilt Trail

Rowan County Kentucky Foothills Quilt Trail

"Card Trick"

Quilt Square #12
Location: 2995 Dry Creek Road (Rt. 1167)
Directions: In Morehead, at the signal light at US-60W & Rt. 519, go 0.65 mile on Rt. 519, then left 3 miles on Dry Creek Rd. (Rt. 1167). Barn sits on right adjacent to the highway.
Sponsor: SETKDA (Southern & Eastern KY Tourism Development Assoc.)

Barn Owner: Mrs. Esther Riddle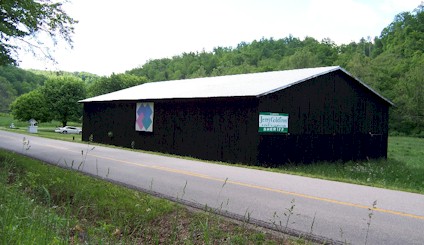 Painted by: Foothills Quilt Trail Painting Team
Installed: May 18, 2006
By Grayson RECC employees (Herbie Steagal, Richard Easton, Chris Mosier, Mark Hutchinson, & David Holbrook)
Note: Built in 1976 by Ernest Riddle and his family themselves, the barn was always used as a tobacco barn. Though tobacco is no longer grown on the farm, the barn is kept in good shape.