Kentucky Quilt Trail

Rowan County Kentucky Foothills Quilt Trail

"Log Cabin"

Quilt Square #24
Location: 286 Ellington Loop Rd.
Directions: From Morehead, west on Flemingsburg Road (Rt. 32) to Rt. 158 (Sharkey Rd.). Left about two miles on Sharkey Rd. then left 0.29 mile on Ellington Loop to driveway on left. The freestanding quilt block is on the left side near the driveway's entrance. An alternate route is from Exit 133 of Interstate 64. Go 2.8 miles north on Rt. 801 then right on Ellington Loop. Geocode (latitude and longitude):38.229025 -83.551652
Sponsors: SEKTDA (Southern & Eastern KY Tourism Development Assoc.)
Property Owners: Duane & Angie Williams Catron.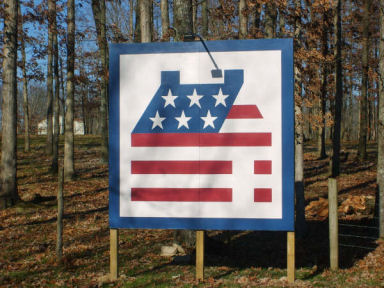 Painted by: Foothills Quilt Trail Painting Team
Hung: December 8, 2006 by Jack Williams & Duane Catron
Notes: A light has been placed over the quilt square for viewing at night. The log cabin design was a pattern chosen by the property owners to honor their four grandmothers who were all quilters. Duane's grandmothers were Geneva Catron and Sarah Mabry. Angie's grandmothers were Clara Williams and Sarah Bailey.